Treatment
CoolSculpting®
Say Goodbye to Stubborn Fat.CoolSculpting® targets fat cells alone, eliminating them in an easy, non-intrusive fashion that exercise and diet can't achieve as quickly or as effectively. So say goodbye to stubborn fat. And say hello to the body you once had with our clinically proven, FDA-cleared, totally non-surgical treatment without the downtime.
CoolSculpting is the More Natural Solution
Developed by Harvard scientists, CoolSculpting® uses a targeted cooling process that kills the fat cells underneath the skin, literally freezing them to the point of elimination. Only fat cells are frozen.
Minimal Downtime and Lasting Results
Unlike a lot of other procedures, CoolSculpting® takes very little time. After your CoolSculpting® treatment, you can typically get right back to work. Each treatment lasts about one hour so you can easily fit your appointment into a lunch break.After one visit, you'll typically see a noticeable reduction of fat.* It takes a few months to fully realize the effects, mainly because it takes that long for your body to naturally dispose of the fat cells. And yes, you can lose even more with additional appointments if you and your doctor deem it necessary.
Book your Consultation
Before & After
During the consult we spend time learning about your objectives. We take photos and you are able to show us what you're excited about. Based on what you share, we are best able to recommend a treatment plan to get you the outcome you want.
Derma Spa client
See bottom of page to set up a complimentary consultation with one of our providers. *Client has provided express written consent to share their photos.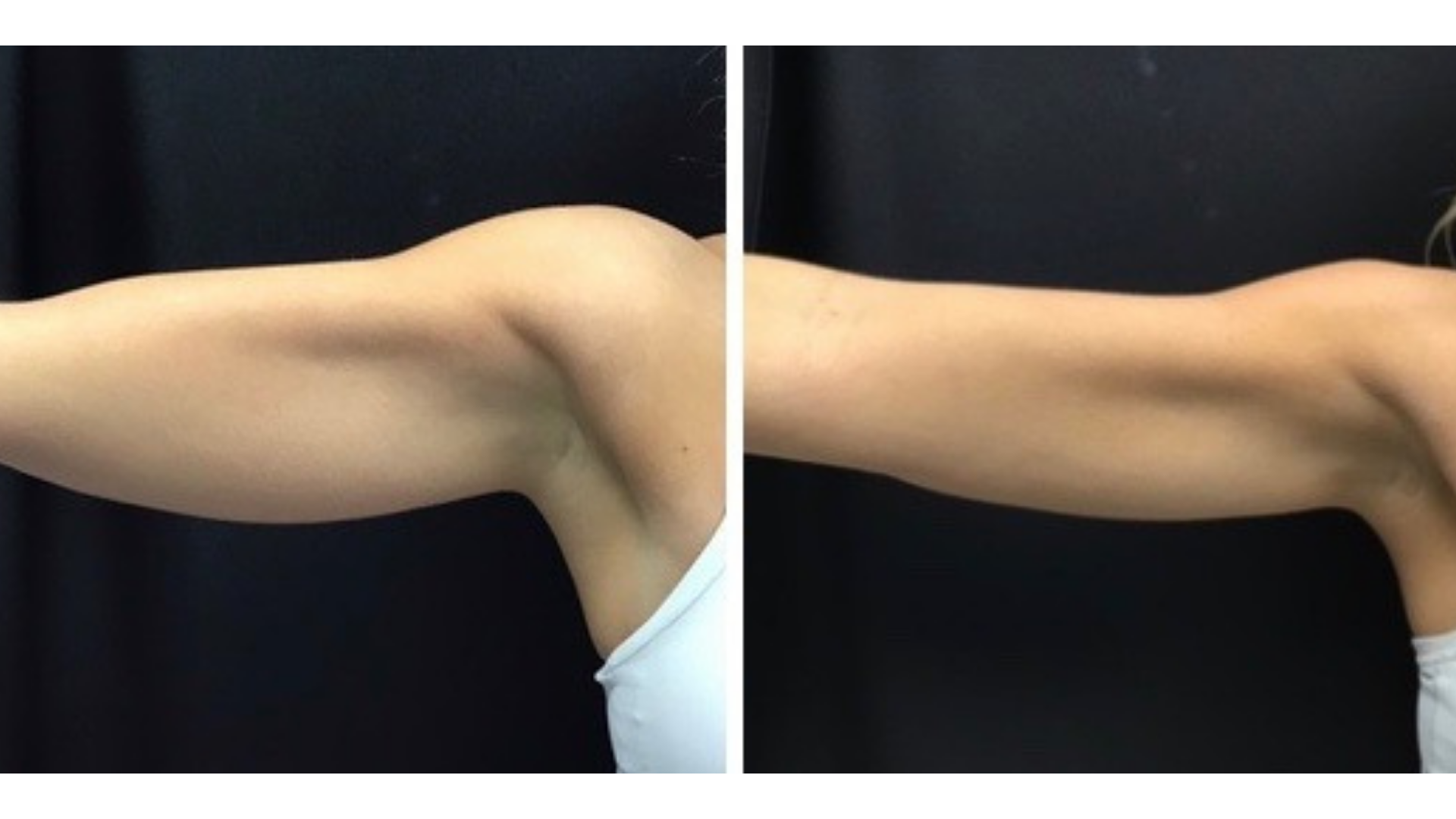 Cost
CoolSculpting® treatments are completely customized to you. Complimentary consultations allow us to assess area(s) and provide pricing.
Faqs
How much does the CoolSculpting® procedure cost?
The price for CoolSculpting procedures vary depending on your areas of concern, the number of sessions needed, and your ultimate goals.  Create a customized treatment plan with your provider that's tailored to your body, your goals, and your budget. See this article for more information about the factors that affect the price of a CoolSculpting® treatment.
How long is each session?
The length of your CoolSculpting® session will vary depending on the number of areas being treated. Many people read, check email, or even take a nap during their sessions.
How many sessions will I need?
Typically, you'll see a noticeable fat reduction in the treated area(s) after one visit. However, additional sessions may further enhance your results. Your provider will help you create an individualized treatment plan tailored to your specific goals.
What happens if I gain weight down the road?
Many people after seeing the results from their CoolSculpting® procedure, take even better care of themselves. However, if you do gain weight, you'll gain it evenly all over your body, not just in the treated areas.
When will I see results?
You may start to see changes as quickly as 3 weeks after your treatment and will experience the most dramatic results after 2 months. Your body will still continue to flush out fat cells for up to 4 to 6 months after treatment.
What does it feel like?
As the cooling begins during the first few minutes, you typically feel intense cold. This soon dissipates. With some applicators, you'll feel some pulling as suction is applied. The area generally goes numb within 5 to 10 minutes during treatment. Many people read, watch videos, work on their laptops, or even take a nap during their CoolSculpting treatment.
After the treatment, you may feel some tingling as the area is massaged for 2 or 3 minutes. Patients are usually able to return to normal activities following their appointment.
What are the risks and contraindications?
Risks
Temporary sensation of 'tugging' at treatment site.
Pain, stinging, or aching at the treatment site
Temporary redness, swelling, bruising, and skin sensitivity at the treatment site.
Contraindications
CoolSculpting is NOT an option if:
You are trying to remove cellulite
You have minimal adipose tissue
You suffer from one or more of the following conditions:

Cryoglobulinemia
Cold agglutinin disease
Paroxysmal cold hemoglobulinuria
What to expect after your treatment
Wear comfortable clothing.
Keep moving to reduce sensations of pain and inflammation.
No vigorous exercise for the first hour post treatment.
Nonsteroidal anti-inflammatory drugs (NSAID), such as ibuprofen will help reduce swelling.
Painkillers such as Aspirin or Tylenol may help with any sensation of pain after treament.
CoolSculpting Reviews
I am an active woman in my 50s, who exercises and eats right but I could not get rid of the extra fat that I had around my middle. I decided to try coolsculpting and boy am I glad I did. I really like that it was non-invasive, quick, and painless. It has definitely helped reshape my middle section and I am thrilled with the results!
–Lorraine